PODIATRIST DISCUSSES 3D ORTHOTICS AND DIABETES
posted: Nov. 23, 2021.
Ben Pearl, DPM interviewed Dr. David Armstrong and Yong Li, a 3-D print orthotics engineer on Fit Foot U for National Diabetes Month. Armstrong discussed his involvement with an NSF healthcare grant at Keck Medicine at USC. The focus of the grant is innovations that support hospital free and activity rich days for diabetics.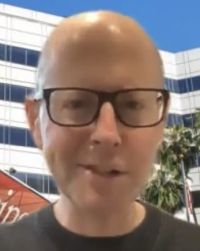 Dr. David Armstrong
Yong Li, a former engineer at Toyota, discussed his development of his 3-D print orthotics lab, OLT Footcare. He is in development stages of a 3-D print diabetic orthotic. Patient Compliance was a theme for the segment and Dr. Pearl added that getting orthotics in the hands of patients in less than 48 hours has greatly improved both patient compliance and satisfaction.
Courtesy of Barry Block, editor of PM News