LARGE MASSES: NEUROFIBROMA
posted: Jan. 04, 2021.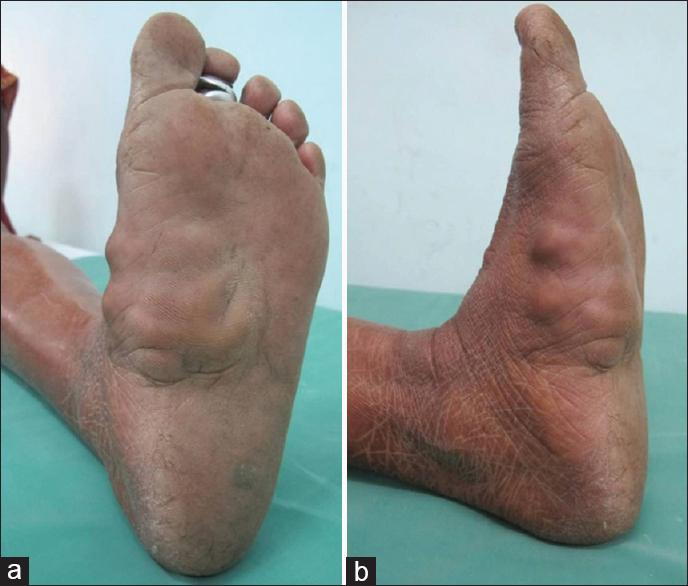 Neurofibromas are typically benign nerve sheath tumors in the peripheral nervous system. They evolve anywhere along a nerve from the dorsal root ganglion to the terminal nerve branches. Neurofibromas are commonly, but not always, associated with Neurofibromatosis Type 1 (NF-1). The solitary form occurs in those who have an isolated neurofibroma and do not have the full syndrome of neurofibromatosis with other masses and/or symptoms such as cafe au lait spots. However, solitary neurofibromas may be the first manifestation of the generalized syndrome of NF-1 and persistent follow-up and monitoring is crucial in these patients.
Cutaneous neurofibromas often occur as sporadic, solitary lesions in healthy adults. They typically present as asymptomatic, soft, skin-colored or hyperpigmented papules or nodules that are less than two centimeters (cm) in diameter. Neurofibromas are more common in young adults, without a gender preference.
They have been known to exhibit a predilection for the trunk and head compared to other body surfaces.4 However, solitary neurofibromas have also been reported in the following locations: the spine, retroperitoneal space, mandible, cheek mucosa, nose, bladder, abdominal wall, lower lip and scrotum.
In the cases where atypically a neurofibroma occurs in the foot it potentially could lead to concerns of the mass actually being more malignant with infiltration into the foot. Differentials in this case can include: osteosarcoma, fibrosarcoma and giant cell tumor, ganglion cyst and lipoma. 
Courtesy of Barry Block, editor of PM News