PODIATRIST DISCUSSES TREATMENT OF INGROWN TOENAILS
posted: Jul. 27, 2020.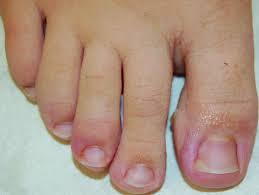 According to podiatrist Monique Mitchell, DPM, "If left untreated, ingrown toes become infected and the infection can spread to the rest of the toe and foot. The quicker you treat them, the less painful the toe and the treatment. Treatment depends on the severity of the ingrown toenail. For the most basic ingrown toenail, the podiatrist will easily cut the offending spike of nail causing the problem. If the ingrown toenail progresses and becomes too painful to touch, the podiatrist may have to use a local anesthetic to numb the toe, before removing the offending portion of nail. The podiatrist will cut out the ingrown portion of the nail and may prescribe a topical or oral medication to treat the infection.
Dr. Monique Mitchell
"If ingrown nails are a chronic problem, your podiatrist can perform a surgical procedure to permanently prevent ingrown nails from coming back. The corner of the nail that grows in, along with the matrix or root of that piece of nail, is removed and a chemical is used to prevent regrowth. This procedure was developed by podiatrists many years ago and is shown to be over 97 percent successful," says Dr. Mitchell. 
Source: The Nassau Guardian [7/14/20]
Courtesy of Barry Block, editor of PM News
Brought to you by Doctor John A. Hardy, owner of Toronto's foot clinic, Academy Foot and Orthotic Clinics.