SOUTH AFRICAN PODIATRIST NOT GAGA ABOUT LADY GAGA'S SHOES
posted: May 18, 2019.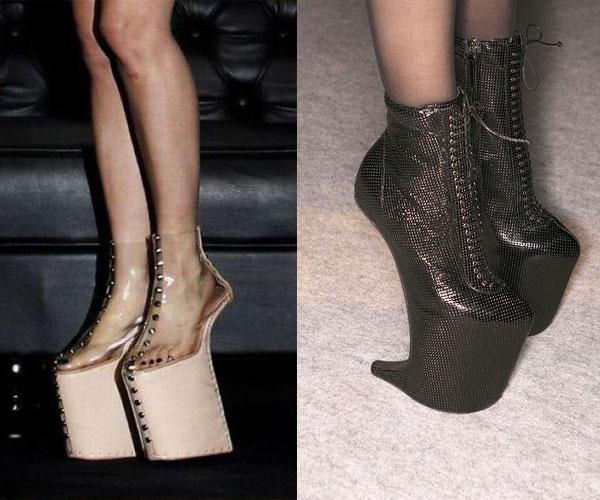 Lady Gaga's "little monster" fans are not the only ones going gaga over the eccentric singer. Shoe addicts have also taken a liking to Gaga's latest-over-the-top-fashion-choice, the heel-less shoes. Janine Smith, a Hillcrest-based podiatrist, said the extra pressure on the ball of the foot could cause unbearable pain, bunions, or a broken ankle. "Because there is no even distribution of pressure, the muscles and points have to work extra hard to balance your body," she said.
Janine Smith / Lady Gaga's Heel-less shoes (Photo AP)
This "unnatural" way of wearing the shoe could cause shortening of the Achilles tendon, said Smith. "People who wear such shoes might, in the long run, find it difficult to wear a flat shoe and might even injury themselves while wearing it," she said.
Courtesy of Barry Block, editor of PM News.
Brought to you by Doctor John A. Hardy, owner of Toronto's foot clinic, Academy Foot and Orthotic Clinics.