RARE SKIN CONDITION OR EXTREMELY DRY SKIN
posted: Jan 11, 2019.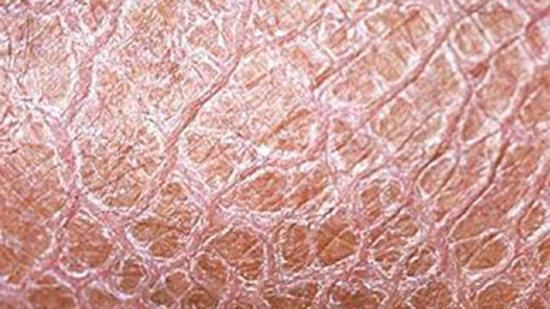 In the winter months it is important to constantly lotion your feet to help prevent your skin from drying out. Drying out of the skin can lead to cracks, fissuring and scaling which can lead to portals of entry which can cause infections. However, it is important to differentiate between simply dry skin, eczema, psoriasis or a rare condition.
One rare condition, known as ichthyosis vulgaris can resemble dry skin in the mild stages so it is important to get your foot evaluated by a foot specialist if your dry skin looks abnormal. 
Icthyosis vulgaris also known as "fish skin disease". It is an inherited skin disorder in which dead skin cells accumulate in a thick, dry and scaling pattern without shedding. This inherently causes a chronic build up of keratin in the upper layer of the skin. Sometimes this disease can often go undiagnosed as it can be mistaken for extremely dry skin. Icthyosis vulgaris has no cure currently and only the symptoms of the condition can be treated. 
Symptoms include: dry, scaly skin, flaky scalp and deep painful cracks in your skin. The scales can develop on the hands, plantar aspect of the feet and also on the lower extremities and upper extremities (arms and legs). Symptoms can also worsen in cold and dry environments and tend to improve in the summer months and in warm and humid environments. Icthyosis vulgaris can also be associated with cancer, thyroid disease and HIV/AIDS. In some individuals, the skin thickness and scales can interrupt the normal sweating process which can cause overheating in individuals due to lack of the ability to cool down through sweating. Skin splitting and cracking is also important, especially for diabetics, as it could lead to increased risk of infections.
If you or a loved one is suffering from dry skin this winter or may believe it is something bigger than just dry skin, do not hesitate to contact your foot care specialist. It is important to visit your foot specialist/Chiropodist to determine the cause so that you can successfully treat the condition or symptoms! 
Brought to you by Doctor John A. Hardy, owner of Toronto's foot clinic, Academy Foot and Orthotic Clinics.