PODIATRIST PROVIDES SUMMER SHOE BUYING ADVICE
posted: Jul 20, 2018.
Since the summer means lots of steamy weather, Nicholas Pagano, DPM

 of Barking Dogs Foot and Ankle Care in Plymouth Meeting, PA suggests opting for shoes with plenty of breathability. "Shoes with liners are there for a purpose," he said. "You want to wick moisture away." Shoes with this feature often come with hang tags so you can easily identify the hidden benefit.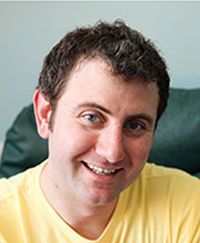 Dr. Nicholas Pagano
Stay away from the wave of PVC looks designers have been sending down the runways and celebrities have been embracing. "Vinyl shoes keep moisture in the foot, screaming bells and whistles for fungal infections and athlete's foot," said Dr. Pagano. "Bacteria love dark, warm, moist places. And increased moisture levels inside the shoe is where warts love to come out and play."
Source: Barbara Schneider-Levy, Footwear News [6/26/18]
Courtesy of Barry Block, editor of PM News.
Brought to you by Doctor John A. Hardy, owner of Toronto's foot clinic, Academy Foot and Orthotics Clinic.