KINESIOLOGY TAPE IS A HELPFUL ADDITION TO OTHER THERAPIES
posted: Dec 21, 2018.
Despite controversy in the scientific community, athletes seem to love kinesiology tape. They talk about cutting out painkillers, preventing injuries, relieving inflammation, recovering faster after getting hurt, and getting extra support. 
Podiatrist 

Mark Lin 

believes in using techniques that work for his patients, and kinesiology sports taping is one of the things that his patients  say are getting results. 
"Maybe it's just because it gives them more confidence," he says. "But my reasoning when I first began to use this form of treatment was that wearing something on a part of the body you need to concentrate on is going to help you with awareness as to how it's positioned and how it's working."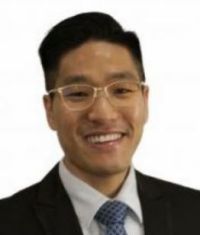 Mark Lin
"Plus, there's a light support benefit. Kinesiology tape isn't unyielding like other strapping tapes. It stretches like skin. So, you're getting extra support, but you aren't immobilizing anything - you're not limiting movement." 
Lin doesn't see kinesiology sports taping as a cure-all. Instead, he thinks it's a helpful addition to other therapies - and certainly not the right intervention for all the patients he sees.  
Courtesy of Barry Block, editor of PM News.
Brought to you by Doctor John A. Hardy, owner of Toronto's foot clinic, Academy Foot and Orthotic Clinics.