HOME FIXES ARE NOT A SUBSTITUTE FOR PROPER SHOES
posted: May 23, 2019.
"Women have been trying at home fixes to alleviate foot pain when wearing heels for as long as heels have been around," Oloff explained, "Women have tried everything from taping their toes, padding the insole of their shoes, padding their toes, adding moleskin to the heel to reduce friction, applying body glide to prevent friction, adding inserts," podiatrist Dr. Joan Oloff told Footwear News.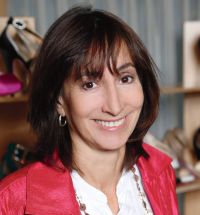 Dr. Joan Oloff
When it comes to at-home remedies and quick fixes, Oloff has heard it all. In fact, it's what inspired her to create her own line of ergonomically correct luxury footwear. Fact: There is no substitute for shoes that are specifically designed for comfort and support.  
Courtesy of Barry Block, editor of PM News.
Brought to you by Doctor John A. Hardy, owner of Toronto's foot clinic, Academy Foot and Orthotic Clinics.