Baby Prince George wears Iconic Leather Style Shoes
posted: May 20, 2014.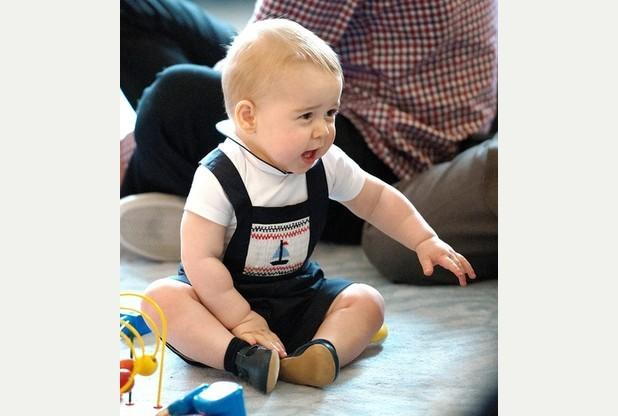 Prince George was seen sporting 1950's classic shoes, since then, sales have catapulted.  Oadby Company Early Days designed the leather shoes Prince George seemed to happily enjoy.
George's footwear has caused a surge not only in sales but in demand, ultimately leaving the company little decision but to expand to help with the new orders.
"I looked at the photo of Prince George and his parents on tour in New Zealand and recognized the shoes he was wearing. I still cannot believe it – we've been making shoes since 1952 and now they're being worn by a future king," said Paul Bolton, managing director of Early Days. Many styles and colors of this shoe have been reportedly sold out.
Good footwear choices for the young are important, and proper maintenance of the feet works hand in hand. To help care for your children's feet, see chiropodist Marz Hardy of Academy Foot and Orthotic Clinics.  Hardycan treat your child's podiatric needs.  
Keeping Children's Feet Healthy
Having healthy feet in childhood can help prevent medical problems later in life, namely in the back and legs. As children grow, their feet require different types of care from birth to school-age.

Although babies do not walk yet, it is still very important to take care of their feet.
· Avoid putting tight shoes or socks on his or her feet
· Allow the baby to stretch and kick his or her feet to feel comfortable
As a toddler, kids are now on the move and begin to develop differently. At this age toddlers are getting a feel for walking, so don't be alarmed if your toddler is unsteady or 'walks funny'.
As your child gets older, it is important to teach them how to take care of their feet
Show them proper hygiene to prevent infections such as fungus
Be watchful of any pain or injury
Have all injuries checked by a doctor as soon as possible
Comfortable, protective shoes should usually be worn
For more information about Keeping Children's Feet Healthy, follow the link below.
If you have any questions, please feel free to contact our office in Toronto, ON. We offer the newest diagnostic and treatment services for all your foot needs.
Read more about Keeping Children's Feet Healthy.