ANKLE SPRAINS CAN HAVE LONG TERM CONSEQUENCES
posted: Dec 16, 2018.
If you think that an ankle sprain is a relatively trivial matter, consider a study published in the March issue of the Journal of Science and Medicine in Sport. Dutch researchers looked at 132 patients five years after they had sprained an ankle. Remarkably, nearly one in five (18.2%) were still having trouble all those years later. Furthermore, nearly one-third (30.3%) had re-sprained the ankle at least once. Such a recurrent sprain, which usually occurred within one year of the original, made those long-standing woes more likely.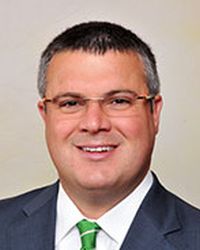 Dr. Robert Clemency
"Largely what I see is what the study found — that people continue to have pain, three to five years after initial injury, even decades after," said Dr. Robert Clemency

, a podiatrist with Community Care Network in Schererville and Munster. "So, a lot of my practice is improving patients' quality of life through therapy, injections, arthroscopy, and even a ligament reconstruction to prevent what no one wants, that's ankle arthritis. Because (then), there are not a lot of great options." 
Source: John Doherty, NWI.com [12/3/18]
Courtesy of Barry Block, editor of PM News.
Brought to you by Doctor John A. Hardy, owner of Toronto's foot clinic, Academy Foot and Orthotic Clinics.