SKIN CANCER OF FEET OFTEN OVERLOOKED
posted: Mar 03, 2019.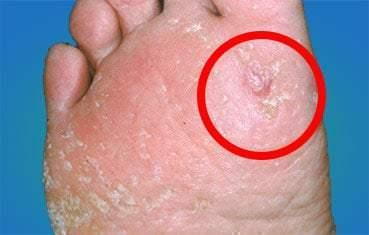 Oftentimes, skin on the feet, especially on the bottom, is overlooked during routine medical exams. According to Dr. Robert Russo

, NYSPMA's President and a practicing podiatrist, skin cancers of the feet have several features in common. "Many times there's a history of recurrent cracking, itching, bleeding or ulceration," he cautions. "Because they can also be painless, these cancers may go undiagnosed until another issue presents itself near the affected site," added Russo. Checking for warning signs is something anyone can do, paying particular attention to changes such as non-healing sores, bumps that crack and bleed, nodules with rolled edges or scaly areas. Examining the bottom of the foot is critical. 
Dr. Robert Russo
Skin cancers on the lower extremity may have a different appearance than those arising on the rest of the body. So to test, the podiatrist will perform a skin biopsy. This is a simple procedure in which a small sample of the skin is obtained and sent to a lab where a skin pathologist examines the tissue in greater detail. If it turns out the lesion is skin cancer, the podiatrist will recommend the best course of treatment.
Courtesy of Barry Block, editor of PM News.
Brought to you by Doctor John A. Hardy, owner of Toronto's foot clinic, Academy Foot and Orthotic Clinics.